Celebrate Today with Kindness
I want to tell everybody to celebrate every day,
to savor the day and be good to yourself,
love yourself,
and then you can be good to others and
be of service to others.
—Charlotte Rae
Today is a day to celebrate! It's a day to savor because you are here to experience it. That, alone, is worth celebrating.
Your day doesn't need to unfold perfectly and as planned in order for you to be kind to yourself.
It is worth it to take that in. Your day doesn't need to unfold perfectly and as planned in order for you to be kind to yourself.
Each day presents you with experiences that foster your strengths as well as ones that encourage growth. The gift lies in your awareness around how you choose to see and respond to your day.
Have you ever paused to consider what it means to be good to yourself? What does that mean or look like to you (not what everyone else tells you it should look like)?
Here are some ideas of how you can foster being good to yourself.
Pay attention to your self-talk.
If something goes a direction other than planned or you do something you deem as 'stupid', how do you talk to yourself? Do you blame yourself for how things unfolded or do you take a breath and encourage yourself to go with the flow? Being good to yourself would include the latter, full of patience and acceptance. Savor your ability to adjust and redirect.
Do you ever give yourself permission to take a break from your routine? As much as routines are helpful, they can also become rigid and confining. For example, if you exercise daily and one morning you decide you need a break, do you allow yourself the break or do you push yourself through it? Being good to yourself includes celebrating your consistency while paying attention to the needs of your body and taking a break. This concept can be applied to many different situations throughout your day. Maybe you need a 5-minute pause from the intense focus at work. Or maybe you are drained from your day and don't feel like cooking. Celebrate the accomplishments you have throughout the day and be good to yourself.
Self-care means different things to different people. Regardless of the definition for you, step into some form of taking care of yourself. Self-care might be body work (massage, energy work, acupuncture), journaling, meditation, prayer, or a walk in nature. It may carry other meanings for you, too. Whatever resonates most deeply within you for some 'take care of you' time, do that. Self-care celebrates being good to yourself and loving yourself enough to receive some TLC.
Breathing fosters a reset of the busy brain and reconnects you to your body. Feeling the breath move the body brings some relief from the tension held in the body. The deep breath, itself, is offering goodness. Mindful awareness of the breath reminds you to take your foot off the gas and ease up on the pressure, especially self-induced. When you bring balance to your body through the breath, it can feel like you took a power nap. Talk about goodness!
There are as many ways to offer goodness to yourself as there are people in this world. The intention of these ideas is to remind you of the big impact a little gesture of kindness can have on you. When you love yourself enough to offer simple gestures to yourself, you are increasingly able to offer that kindness to others.
Savor the gifts you bring into each day and celebrate the opportunity to share them with others.
What can you celebrate about today?
How have you been good to yourself today?
What have you done to be of service to others today while still being good to you?
Walking together in light, love, and peace 🙏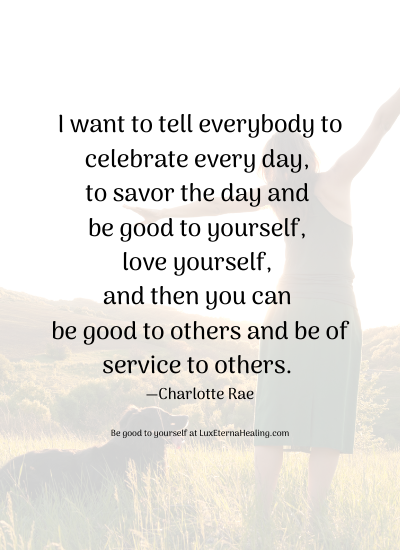 When I choose to be kind to myself,
I savor it through kindness towards others.