Fall in Love with the Whispers of Your Heart: A Guide to Transformation from the Inside Out
Numerous self-help books promise a quick way to reach spiritual enlightenment. The real 'guts to glory' way is to get to know yourself. It's that simple and that complex. Fall in Love with the Whispers of Your Heart invites you to lean in and unravel the mystery of what makes you YOU. It is overflowing with meaningful and sometimes challenging information yet a dynamic approach to discovering the gems within.
Fall in Love offers a collection of thought-provoking reflections on various aspects of psychological and spiritual life. Each quote has accompanying questions to elicit thoughtful engagement and a related mantra. It is a poignant invitation to deeply understand yourself.
Fall in Love is written to inspire curiosity, open to reflection, and step into an honest knowing of who you are. It is a guide to the rich tapestry that has been woven together from the threads of your life experiences. This book encourages slowing down, being gentle, and accepting all of you. It supports the process of growth and empowerment, offering tools to bring clarity and light.
Be courageous. Fall in love with the whispers of your heart.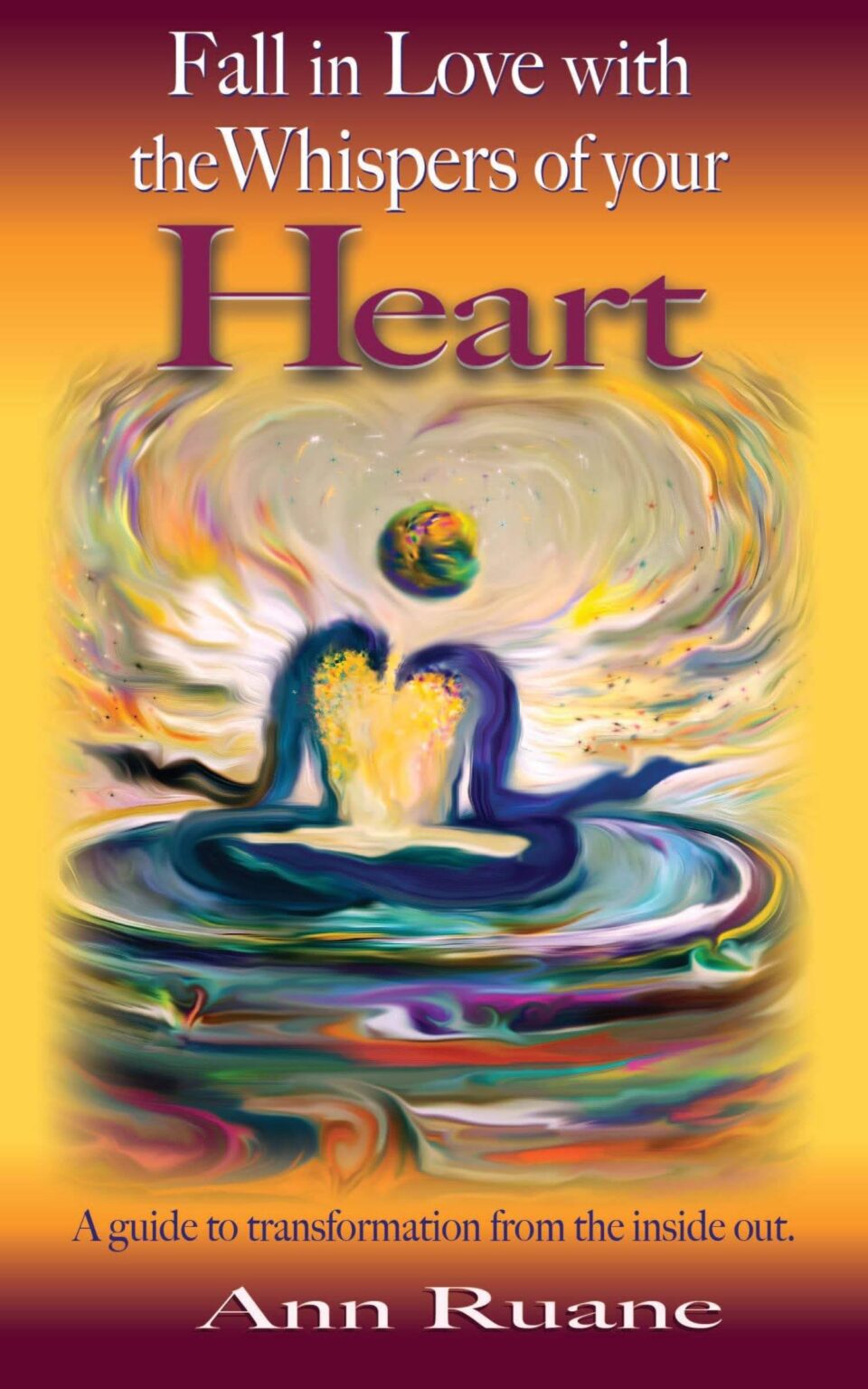 "Fall in Love with the Whispers of Your Heart: A Guide to Transformation from the Inside Out Book 2" by Ann Ruane
Continue your journey of growth, self-discovery, and expansion with another set of themes, prayers, mantras, and reflection questions.

The journey continues...
the path steadily revealed...
with magic and miracles guiding the way.

The whispers persist...
come home...
to your heart...
your sacred vault of truth.
New companions join you...
your heart...
your soul...
your divine light.
"Walk with me, talk with me...
share your dreams and your fears with me.
Let me lead you...
to Love."
Opening Poem from Book 2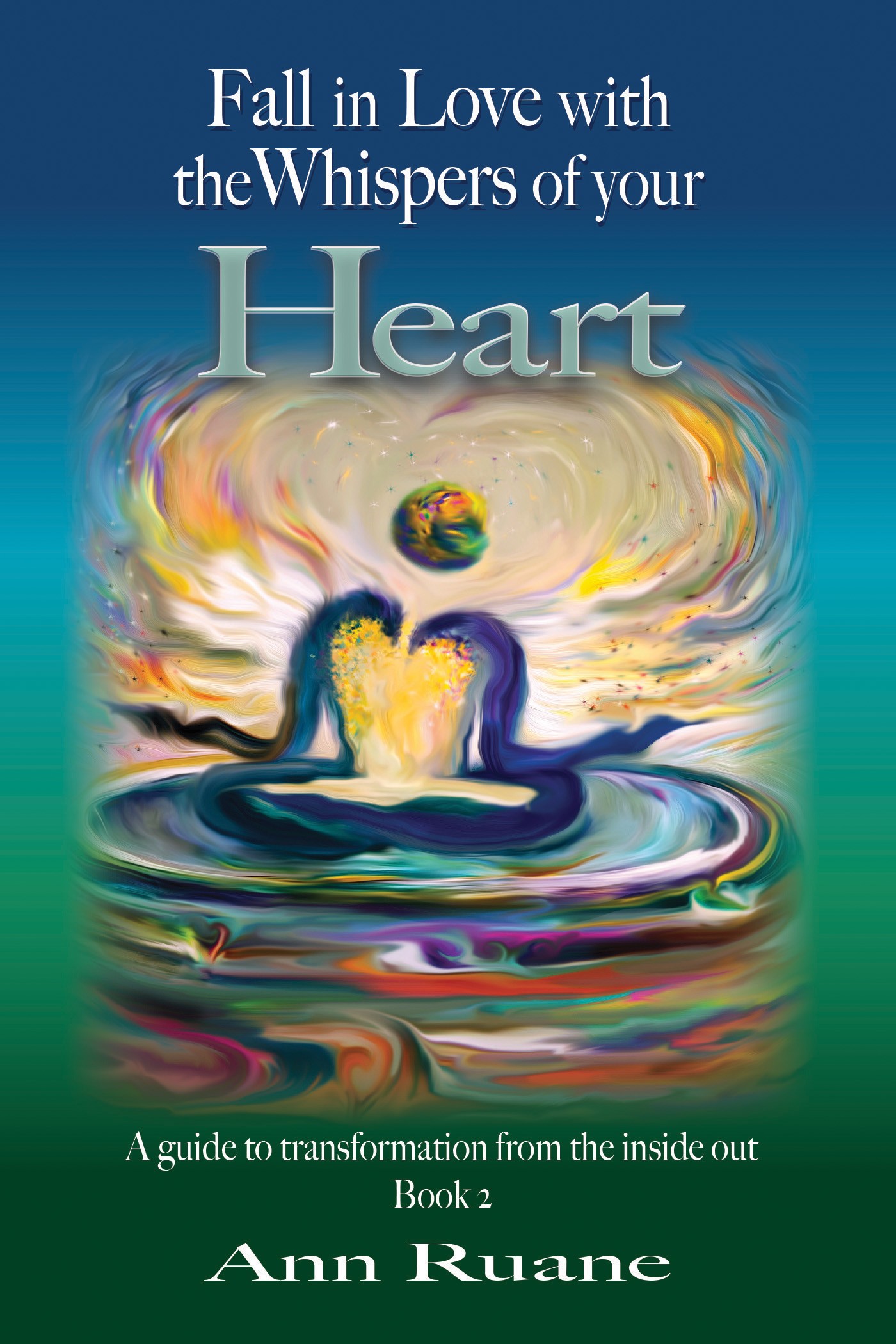 "Fall in Love with the Whispers of Your Heart: A Guide to Transformation from the Inside Out Book 3" by Ann Ruane
The journey continues, the treasures amass, and your connection deepens. Explore another collection of themes, prayers, poems, mantras, and reflection questions.
Returning again and again...
with devotion and sincerity...
to the whispers within myself.
Commitment and dedication
unfold...deepen...blossom...
to know myself.
With reverence and loyalty, I choose myself...
accept myself...
embrace myself...
love myself.
Coming home to the whispers of my heart...
my sacred vault of truth.
Opening Poem from Book 3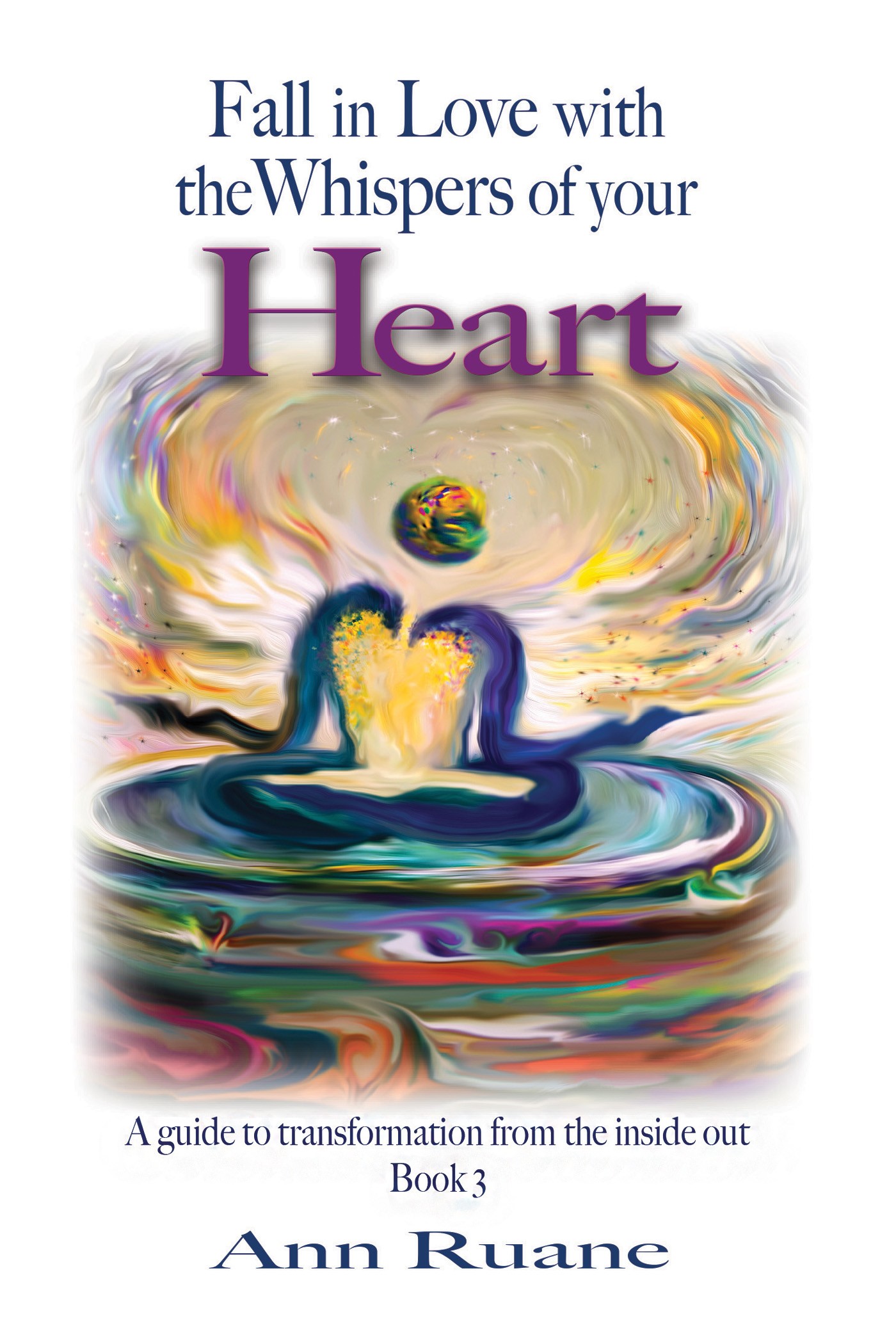 Return Home: The Echoes Resound--Original Music for Solo Piano by Ann Ruane
17 original piano compositions offering therapy for your soul.
"Return Home: The Echoes Resound" was inspired by the true source of this music. What started out as little sketches scribbled in a manuscript book eventually blossomed into the pieces contained in this collection. The motifs, harmonies, and styles flowed right out of my pencil onto paper. There was a hidden treasure within me, waiting for me to return home to it.
Each piece in this collection portrays a facet of the return home...to your heart...to your roots...to your truth. Allow them to live differently within you each time you play or listen to them. Be Flexible. Be curious. Be with the pieces in a way that reflects where you are and how you feel in the moment. Let the music speak to you in a way that resonates with what you need to hear.
As you play or listen to the music, I invite you to return home within yourself. Allow your own echoes to vibrate and resound within you, opening you to your own treasure. Feel beyond what you play or hear and simply be.
The poems and prayers that make up the lyrics or mood of the pieces are from "Fall in Love with the Whispers of Your Heart, Book 1".
Fri., September 23, 2022
7:00pm
Dawes Studio Theater-
Sharon Lynne Wilson Center for the Arts
Brookfield, WI
www.wilson-center.com
Join me for a live performance of "Return Home: The Echoes Resound".
Over the course of the evening, you will hear insight into the pieces, the inspiration behind them, nuggets about my books, and even tidbits about me!
Merchandise will be available following the concert.
I look forward to seeing you there!
Admission: $10. Tickets available at www.wilson-center.com
October 14-15, 2022
Dawes Studio Theater in the Sharon Lynne Wilson Center for the Arts
Imagine that you had two guardian angels who knew exactly the right moment to come to earth and guide you through the most important time of your life – that time of opening your heart, letting go of the past and releasing your fears so that you at last might Come Home to the truth of who you are. Now, imagine that they communicated with you through playful, stirring, poignant original music and vibrant original art created expressly to fill your senses and delight your spirit.
Read more...
What people are saying about "Fall in Love"
"Everyone carries inside of them, a deep and shadowy fear of the unknown. A fear which, over time, becomes a crackling noise weaving itself through our building inner narrative. This fear isn't necessarily that we're disquieted by the thought of being left behind or potentially shut out by what we struggle to perceive. Rather, we dread the uncertainty of being able to withstand the new knowledge which comes to us if we decide to open our heart and minds to that which was previously felt as dark and dauntingly mysterious. We imagine our heart buckling under the weight, or that our soul might wither away. There comes a time when we must ask, what truly longs to be expressed within the murmurings of each deep-seated fear and the traces of sheer avoidance?
Ann Ruane takes us through the dense forest of the unknown and onto an illuminating path of personal healing and intuitive recognition in her beautifully crafted book, Fall in Love with the Whispers of Your Heart. Each chapter will lead you through the work of revelation and transformation, ultimately translating the divine messages that have been swirling in the mists of your heart's telling whispers. Once opened, the pages of this book will become a hand to hold onto, a friend to confide in, a teacher to come back to, and a cherished guide to depend on."
Susan Frybort, Author of Open Passages, Doors and Windows to the Soul and Hope is a Traveler, a collection of poems
I am not a sentimental person. I never thought a self help book could do much for anyone. Then I received a copy of Fall in love with the whispers of your heart and my whole belief system was demolished in one chapter. It was like this book was sent to me at the exact moment I needed it, when I didn't know I needed it.
I really felt connected to what Ann was saying and how she laid out the book was genius. It was so simply done but with such gravitas and compassion that I couldn't help reading the whole thing twice. I answered all the questions she asked and found out things about myself I didn't even know. I made notes and felt a strangely dignified calm wash over when I repeated the mantras to myself. I have post-it notes sticking out from it everywhere and I am torn between hoarding my copy to myself and the need to share it with people so they can feel the way I do today.
I can't recommend this book enough! I found it insightful and written from a soul so beautiful you can't help but trust this book to set you on a path you didn't know you were searching for.
Thank you so much for all the work you do Ann and I hope more books come from you in the near future.
-Stacey Assau, The Lioness of Literacy
What a beautiful and encouraging read that will be so easy to revisit often.
-Sharon B
The Title Is Very Fitting After Reading the Book.
1. I enjoyed the book and was not able to put it down.
2. The change in the fonts was helpful and allowed you to zero in on various aspects of the book.
3. The mantra's will be used in my daily self-meditation.
4. I will be reading a second time to help formulate some self-improvements.
-Mike V
Beautiful Cover
Each chapter of the book is thought provoking and makes you want to continue reading!!
-Nancy B
Great Read! And Exploration!
Really opens you up to several thought processes
-Pat A
This would make a great gift for anyone interested in taking a personal inventory and seeking to make their future a brighter, healthier, more peaceful place. A great idea for Christmas!
-Laurie P.
Fall in Love With the Whispers of your Heart
Whispers of your Heart is like going out for coffee and a chat with a good friend – a really wise friend who bounces ideas off you and makes you think on the ride home.
-Bonita Z.
I read a page a day...thank you.
-Jamee S.
The first page we opened the book to was immediately inspirational and timely.
-James H.
This is a great book to help stimulate thoughts, move through blocks, stir productive self-reflection, and make changes in your life. Ann Ruane gives an easy to follow path to explore everyday topics, and is supportive in that exploration through examples, questions, mantras and poems. The book is set up to allow you to read as you choose, without the expectation of reading it from cover to cover. Truly a wonderful way to navigate life, and grow in the process.
-Carol D.
I received "Fall in Love with the Whispers of Your Heart" yesterday and am devouring it. The quotes selected are so poignant. Thank you so much for your diligence, vision and nurturing spirit that oozes from the pages.
-Dick H.
My 2 books came on Fri. I have ordered a 3rd. It is wonderful!
-Mary A.
Thank you for hearing the whispers of your heart! Your wisdom and insights, coalesced into this rich and succinct collection of messages, ring so true for me! There is a lovely, simple resonance that seems to have all the decades of input from my many avenues of pursuit in personal and spiritual development brought down to core lessons, core teachings, core questions... core.
I honor your courage to follow your whispers! I am a grateful recipient of the outgrowth of your choice!
-Mary Beth
Professional pianist, reiki master and author Ann Ruane understands the challenges of healing from a life-altering event. After her divorce in 2006, she found solace in her music and journaling, but after receiving a reiki treatment during a massage, Ruane found energy work transformational. The experience sent her on a spiritual path and eventually led her to write Fall in Love with the Whispers of Your Heart, released in October through Book Baby publishing. Page after page, Ruane offers a series of thought-provoking reflections on aspects of psychological and spiritual life.
Read more of the Community Spotlight article in Natural Awakenings Magazine here.