Listen to Your Inner Roar
Courage results when one's convictions are bigger than one's fears.
—Orrin Woodward
How courageous do you think you are?
How easy is it for you to access courage?
We all experience moments, some seemingly bigger than others, where we need to draw on courage to move through fear. In reality, we could be faced with the need to tap into our courage multiple times a day. Courage is strength of the heart, or heart-centered strength; choosing love over fear.
How many times do you think you act courageously throughout your day? Here are some ways you may have acted courageously:
Walking past the neighbor's house where the dog tore across the yard at you last week.

Submitting an application for a new job/college/grad school.

Sharing your opinion with a co-worker who doesn't share your beliefs.

Taking responsibility for your part in the argument with your spouse.

Walking away from an uncomfortable situation.

Keeping your massage appointment when you have a long to-do list at home.

Leaving your work at work.

Initiating a conversation about a tender topic that needs to be discussed.

Going to bed early.

Giving yourself permission to feel how you feel.
Be willing to notice if any of the items in the list stirred up an uncomfortable response within you. If they did, consider it to be an invitation to explore what else is there with it. Notice that this, too, takes courage.
Here is an acronym for COURAGE:
Consciously Obtaining Unspoken Reassurance, Accessing Grace Effectively
In other words, courage is purposely choosing reassurance through love, allowing grace to alleviate fear.
It takes courage to live your life on purpose, fully engaged and intentional. There are moments in which the courage to choose love feels just out of reach. Believe in yourself…reach a little further. Dive deep within to discover how much courage you really DO have. As Eleanor Roosevelt nudges us, "You must do the things you think you cannot do." The mind doesn't grasp what the heart is capable of.
Between journaling and counseling, I have learned how my mind can create stories as a reaction to a situation. However, when I check in with my heart, I hear what is true. There are days when the heart check-in feels effortless and fluid. And then there are the other days…which, ultimately, take courage to be present with. My mind can second guess the intention of others, twisting and distorting a situation while also attempting to mask the emotional impact on me. When I check in with my heart, I see what wound or limiting belief is being poked at and gain insight as to how to resolve it and bring peace. It takes courage.
It takes courage to be curious and build a relationship with your Self.

It takes courage to follow through with the desires of your heart.

It takes courage to set boundaries and honor yourself.

It takes courage to love yourself when it feels like you are being shoved out by others.

It takes courage to choose love over fear.
Let me hear your inner roar!
Walking together in light, love, and peace 🙏❤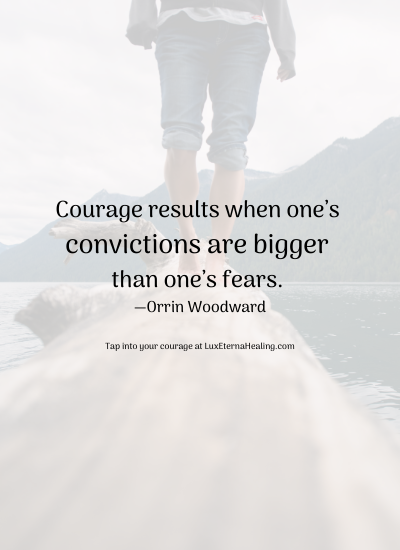 When I choose to be courageous,
I listen to my inner roar.