Each person deserves a day away in which no problems are confronted, no solutions searched for.
—Maya Angelou
Each person deserves a day away. Period. It's not a competition to see how much you have accomplished to deserve a day away. You deserve a day away because you do. Now that we have that all cleared up, what would you add to the list for your day away?
No problems confronted.
No solutions searched for.
No responsibility tended to.
No notifications answered.
What else?
Once upon a time, Sundays used to hold that sacred space for time away. Now, the busyness of life pushes Sunday to be a day of finishing up what you didn't finish on Saturday and prepare for the week ahead. When did busyness become more important than time to be? When did the importance of getting things done climb higher than inner peace? When did unplugging for a day fall off the to-do list?
With all of the pressures around us…and within us, it's easy to fall into the trap of thinking, "I don't have time to take a break." If you hear yourself say that, you are officially overdue for a day away. Consider this your love nudge to pause and be.
I am just as guilty as the next person for keeping myself busy. I take time each morning to be, but it doesn't often turn into a day. For me, part of it contains an element of having many fulfilling projects going on that I want to stay engaged and offer time and energy to creating. However, unplugging and stepping away offers the much-needed break to recharge the creativity within. Breathe, bask and bless. Take a deep breath. Bask in gratitude for what has been accomplished. Bless myself and my connection to my creative spiritual team for the gifts within.
The concept of a day away is often referred to as a mental health day in modern culture. Yes! Normalize your need to take care of you. Follow through with gentleness. Breathe. Bask. Bless.
If the idea of taking a day away sends a wave of anxiety over you, start small and take five minutes. Instead of scrolling on social media, breathe…bask…bless. Breathe in the quiet of no 'dings' to grab your attention. Bask in all that you have accomplished (even if it is getting out of bed). Bless your gifts and open to what lies ahead.
You can even make a moment feel like a day away. Feeling physical pain? Breathe deeply into your body. Bask in the opportunity to offer your body peace. Bless the pain and offer yourself kindness.
Is your mind going in a million different directions? Breathe deeply to interrupt the noise. Bask in the momentary quiet. Bless your inner wisdom and open to it.
Start small. Create a habit. Choose you.
Breathe.
Bask.
Bless.
When was the last time you took a day away?
How often do you truly breathe during the day?
What can you bask in in this moment?
How can you bless yourself in this moment?
Walking together in light, love, and peace. 🙏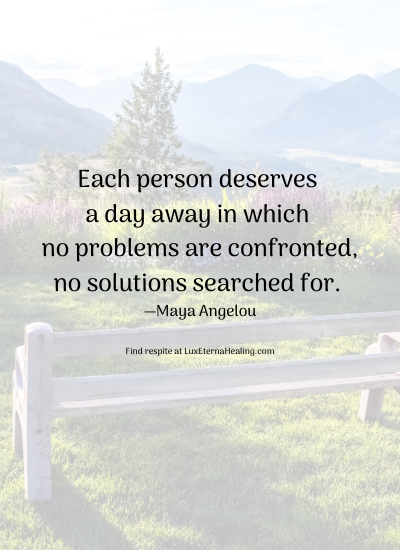 When I choose to breathe, bask, and bless,
my spirit is renewed.