The Impossible Dream…or is it?
We all have dreams. But in order to make dreams come into reality, it takes an awful lot of determination, dedication, self-discipline, and effort.
~ Jesse Owens
Your dreams grow and change as you do. As a young child, your dream might include receiving the most amazing, awesome birthday/Christmas present EVER. Then when you reach middle school or junior high, your dream might include making the basketball team or the dance troupe. In high school, your dreams might expand into finding a special romance as well as hopes for college. As you can see, dreams change as you change.
When was the last time you gave your dreams intentional thought?
One of the consistent aspects of dreams is the dedication required for you to do your part to make them a reality. One rarely excels in any endeavor without putting in consistent effort. There needs to be a level of dedication present, encouraging you to continually stretch beyond what you think your limits might be.
What's included in your definition of dedication?
This isn't a dictionary definition, but rather my personal musings on what is included in dedication.
What is your dream? Do you want to be the next NBA star? Record your first top-of-the-charts CD? Have a healthy, supportive relationship with a special life partner? What is your heart aching for? What aspirations live within you? There needs to be a 'something' to be dedicated to.
How much are you willing to give, offer, or sacrifice? How much 'sweat equity' can you tap into? Commitment includes regular, if not daily, attention and effort into your dream. Making-not finding-time to invest in your dream is also part of commitment. Rarely does the time just fall into your lap.
Dedication takes effort. You need to invest your energy into your dream if you want to bring it to fruition. However, there is a fine balance in regards to effort. It's important to know how much to do versus how much to allow. Stay open-minded in your effort to encourage the dedication to be nurtured from within.
The inner fire inspires dedication, keeping the passion ignited and on the forefront of your mind. Your desire to fulfill your dream nurtures dedication and helps you pick yourself up if you experience bumps along the way. Dedication may not always be easy, but desire will pull you through.
Healthy self-confidence supports dedication. You will see the gifts within you and trust in your ability to access them, foster them, and utilize them to their fullest potential. Sometimes you may even have to rely on blind faith that you will find what you need within you. Dedication includes knowing that you have the ability to do what is necessary to support you on your journey.
Dedication can include the need to step out of your comfort zone, risking the unknown and discovering what lies beyond your current experience. It takes courage to be curious and ask questions, opening to a different way of thinking or approaching a situation. It takes courage to follow your dream and explore a new path. Courage is like the North Star of dedication, leading you every step of the way.
Where courage is involved, vulnerability is sure to follow. As curiosity emerges, you are nudged to be vulnerable to seek what you don't know, explore what is unfamiliar, and attempt things you have never done before. You bare your soul to yourself when you are dedicated. You humbly see what feeds your soul and pursue it with love and passion.
With these nuggets around dedication, you can see how fulfilling your dreams lies within you.
Is there such a thing as an impossible dream? Personally, I don't think so. It all starts within. You have all of the ingredients necessary to create a masterpiece. Where will you start today?
What dream are you longing to fulfill?
What step(s) can you do today?
Walking together in light, love, and peace. 🙏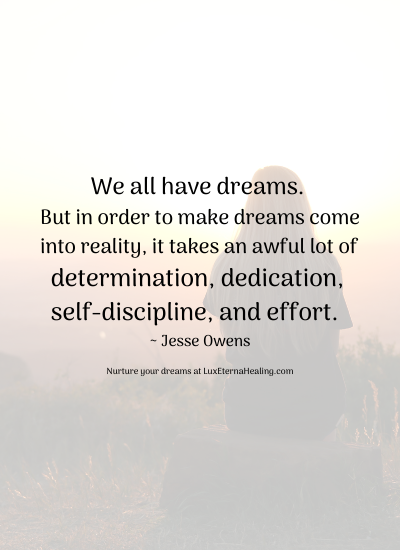 When I choose to be dedicated to my dreams,
I fulfill them.