Create. Emerge. Transcend. Grow.
Faith in the creative process, in the dynamics of emergence, in the values and purposes that transcend past achievements and past forms, is the precondition of all further growth.
—Lewis Mumford
It's common to wonder what purpose you have in this life or what you are called to do. It's also common to be impatient in the process of discovery and growth. A key nugget of information to carry with you is to love yourself enough to see your worth and your talents; to believe that every effort you make is valuable.
As inspiring as the creative process can be, it can also lead to discouragement or questioning if you are doing the 'right' thing. The creative process is one of discovery, curiosity, inspiration, and dedication. It can be messy, slow, maybe even stagnant on some days. This doesn't mean that you're not on the right path. It's often an invitation to let curiosity sneak back in to fan the flame of inspiration. It's also a nudge to check in with your heart and discover what has opened within. There is always more to learn and experience in the creative process when you let your inner wisdom join you on the journey. See your projects through to the end. No amount of effort put into the creative process is ever wasted.
The Oxford Dictionary definition of emergence is 'the process of coming into being, or of becoming important or prominent.' To have faith in the dynamics of emergence means to trust in the full scope of your experience as you discover and reveal who you really are. Emerging doesn't only include the happy, joy-filled moments. It honors the challenges and struggles as experiences that helped you recognize a greater depth of understanding of what is within you. You receive the gift of seeing all colors and sides of yourself: the happy and the sad, the big and the small, the timid and the courageous, the bombastic and the tender. There is an amazing tapestry within you, created by the life you have already lived. See it. Use it. Grow from it.
Continuing with the ideas above, every experience you have had is a stepping stone for learning and understanding. There is always something to gain from what you have lived through. Your experiences don't define you; they inform you. Regardless of what you have accomplished, achieved, or stumbled through, there is an opportunity to transcend above that. You aren't limited by your past. Your past gives you a sneak peek at what was as well as what is within you. From there, you have the choice to see and move beyond those experiences. You are not defined nor limited by your past.
When all the pieces of the messy, curiosity-filled creative process blend with the full foundation of your experiences and you rise above your past, you grow. You step more openly into the wholeness of who you already are. You emerge out of the shadow into your light. You transcend the limiting beliefs that chained you down. You honor who you are and step more intentionally into your 'why.'
What does your creative process feel like to you?
How do you wish to see yourself emerge?
What pieces of your past do you need to transcend?
Walking together in light, love, and peace. 🙏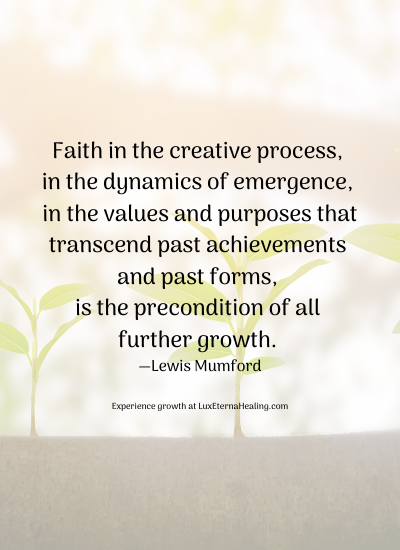 When I choose to create, emerge, and transcend,
I experience growth.