What Grows in your Inner Garden?
Summoning gratitude is a sure way to get our life back on track. Opening our eyes to affirm gratitude grows the garden of our inner abundance, just as standing close to a fire eventually warms our heart.
—Alexandra Katehakis
We're often searching, reaching for things outside of our grasp, sometimes through the eyes of scarcity and other times feeling disconnected. You're left feeling disoriented or uninspired. How do you maneuver through times like these?
When the mind is stuck in a rut of seeking external approval, affirmation, or abundance, use gratitude to go within. If you're experiencing a challenging time or feeling overwhelmed by emotions trapped within, the mind tends to pull you outside of yourself to avoid feeling what is necessary for you to feel. This can lead you down the rabbit hole of 'poor me' and heighten the awareness of all the things you think you don't have. Pause. Take a breath. Refocus your mind to the abundance you have…within you.
Gratitude is an effective way to shake the dust off your inner light. It can be found in the simplest of things, like the breath that reminds you to pause. Your life is teeming with abundance and blessings. It's a matter of shifting into gratitude and seeing what is both within you and in front of you.
A feeling of lack can stem from seeing yourself as not good enough, not capable enough, not (fill in the blank) enough. Self-judgment, regardless of how intense or noisy it may be in your head, can lead to many un-truths. It is depleting, draining joy and inspiration from your well-spring within.
Return to the basics of who you are. Gently notice the weeds (limiting or false beliefs) that have been planted within. See them for what they are. Noticing them and naming them give you the power to change them. Avoid yanking them out without really seeing them. Clarity offers you something more tangible to work with, allowing gratitude to shine light on your inner abundance, the extensive gifts and qualities that are uniquely yours.
Your gifts within are plentiful. They always have been, and they always will be. The scarcity mindset attempts to steer you in a different direction. Avoid allowing that to happen by shifting your relationship with the thoughts that run through your mind. Instead of the thoughts leading you to false beliefs of lack or self-judgment, transform them into teachers to help you see where you need an extra dose of TLC and gratitude.
For example, if you have thoughts of not being able to have relationships that are full of support and acceptance, open to the lesson. Think of the people in your life and reflect on your relationship with them. Is there a level of support and acceptance within them? They may not all be at the same level, yet there are people in your life who do pay attention to you. It's also an opportunity to reflect on your relationship with yourself. Do you offer yourself support and acceptance? If not, how can you nurture that within you? Find gratitude for what is already present within you and use that as a foundation to foster a greater, more abundant relationship with yourself.
You are worthy of the abundance of wisdom and love within yourself.
Express gratitude for who you are in this moment, knowing that you are sharing the best you have to give. Allow yourself the space to let your best be fluid from day to day and moment to moment.
What thoughts are growing in your inner garden?
What thoughts need some tender attention in order to shift them?
What gifts within you will you express gratitude for today?
Walking together in light, love, and peace 🙏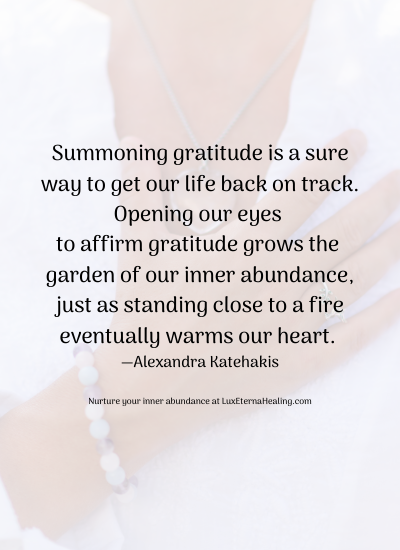 When I choose to be grateful for who I am,
I experience abundance.