Friends can help each other. A true friend is someone who lets you have total freedom to be yourself - and especially to feel. Or not feel. Whatever you happen to be feeling at the moment is fine with them. That's what real love amounts to - letting a person be what he really is.
~ Jim Morrison
Friends are a necessary thread in the weave of your life. They offer the right amount of strength, a splash of color, a unique texture, and a constant presence. Friends are willing to venture into the unknown with you, be it physically, spiritually, mentally or emotionally. There is a mutual dynamic of give and take, with love and acceptance leading the way. Friendships like these can weather the storms of life while celebrating every victory along the way. They offer safety and respite, especially when life feels like a bit too much.
When was the last time you considered nurturing this kind of friendship with yourself?
While the critic may be ranting or berating in your head, what would you do or say for a friend in that same situation? Would you allow them to believe the judgment or offer support and gentleness?
Strength
Do you believe in your own inner strength? A friend is the rock you rely on when things are bumpy or challenging. Are you able to offer yourself that same sense of safety and strength? You might surprise yourself to notice how much inner strength you actually have. Think of a time when you pulled yourself through a tough situation with determination and conviction. It's not that your friends wouldn't have helped you, but it is valuable to see how you can also help yourself.
A splash of color can be thought of as play, whimsy, spontaneity, or light-heartedness. What splash do you bring to your life? It is not that uncommon to limit this element, especially in relation to yourself. It's more common to hold the belief of being a responsible adult, taking care of what needs tending to, or feeling obligated to someone or something else. You deserve your own splash of color…daily. Remember your whole self, not just the responsible adult self.
Your unique texture includes your gifts, quirks, talents, passions, and dreams. You're a multi-dimensional being with unique characteristics that make you who you are. Nobody else is exactly like you. You get to claim that crown. Celebrate your uniqueness instead of comparing it to others or judging yourself. Bring your unique texture to the surface every day. It's too rich not to.
How often are you truly present with yourself versus strictly inhabiting your mind? Your body holds a wealth of wisdom and information, waiting for you to access it. The sense of presence includes feeling all the feelings that arise, accepting them as teachers on your journey. It also involves checking in with what you need or want. If you are asked to do something, take a breath, check in, and offer a mindful response. There's no need to say yes when you really want to say no.
You are your own best partner in the adventures of your life. You get to make choices that support your desires and dreams. You get to follow your curiosity and explore whatever it is that calls to you. You get to dabble in vulnerability and discover who you are. You are empowered to negotiate life on your terms. There are limitless adventures for you to have within and around you.
Take the time to nurture a friendship with yourself, treating yourself the same way you would treat your closest friend. Experience the joy and freedom of being who you are. Free yourself from the need to please other people. Support yourself the way you desire to have your friends support you. You are just as worthy of the love and acceptance you freely offer to your friends.
What level of freedom do you offer yourself?
Do you give yourself permission to feel?
Are you accepting of whatever you're feeling in the moment?
Walking together in light, love, and peace 🙏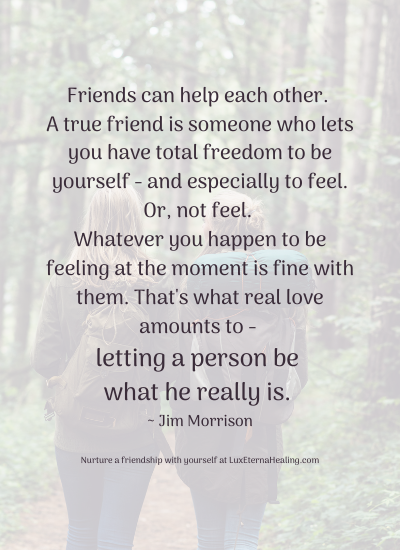 When I choose to befriend myself,
I am free to be me.