Gratitude draws the mind into closer touch with the source from which the blessings come.
~ Wallace D. Wattles
Gratitude is a love-filled nudge to see the abundance that surrounds you and dwells within you. You have been blessed with many gifts simply because you are you. When you open to the beauty and richness within you, you open to the presence of Spirit. Even in the midst of challenges, find gratitude for the resources you have available within and around you. You are never left to face anything alone. Find gratitude for the spiritual connection that exists between you and Source, Spirit, God, Your Higher Power, Universe, or the like. Your blessings are abundant. Broaden your perspective to see what is in front of you and around you and offer gratitude.
Here is an excerpt from "Fall in Love with the Whispers of Your Heart, Book 2" (target release in Fall 2022):
Gratitude…
Fills an empty cup to overflowing.
Inspires a heart to take flight.
Lifts a desperate soul to a place of hope.
Expands vision to see beauty everywhere.
Invites inspiration to a weary soul.
Welcomes challenges as opportunity for growth.
Creates miracles in the ordinary.
Moves mountains for a place of respite.
Let me live with a grateful heart, to see Your hand in all I experience.
Which line most resonates with you?
What area of your life would benefit from a dose of gratitude?
This blog is intentionally short as I hold the invitation for you to go within and discover connection to your source through gratitude. Here is one last idea to inspire you:
Graciously Realizing All Things Initiate Through Ultimate Divine Expression
Walking together in light, love, and peace 🙏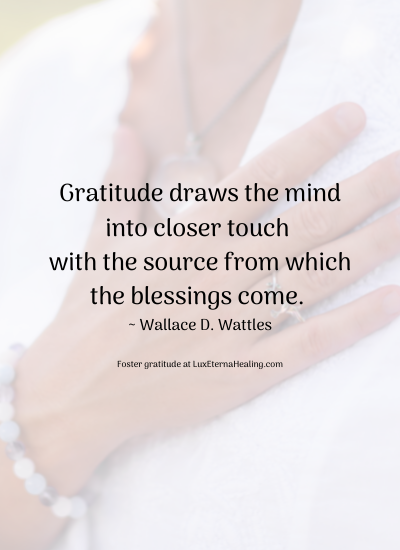 When I choose gratitude,
I connect to Divine.