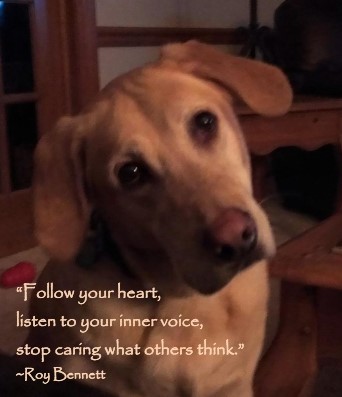 With Thanksgiving right around the corner, I want to offer gratitude for all of the beings-human and otherwise-in my world who remind me to follow my heart and listen to my inner voice. As I mentally go through all of the people, I am gently reminded that this includes all people I have had any type of interaction with, directly or indirectly. ALL people. Every time I have an interaction with another person, I am given the opportunity to follow my heart and listen to my inner voice. With that in mind, there are definitely people who very intentionally offer this love nudge to me…for which I am most grateful.
I mention living beings, too, because I have been lovingly guided by my Wolfgang and find deep connection within Mother Earth. I always get signs from her when I need them…a hawk to remind me of clear vision…a deer to remind me of compassion…an owl for wisdom and intuition…a cardinal to listen to my inner voice…all of which can only happen if I stop, look and listen.
I have found that one way to listen to my heart is to make sure I have breathing time in my day. My day doesn't have to be crammed full of work and crossing things off my to-do list. Yes, work is important, but not as important as enjoying the blessings I already have in my life. It's also about choosing to do things I enjoy: reading, playing piano just because, going for a walk, playing a game, enjoying a crackling fire or being with friends and enjoying laughter and conversation. I could go on with my list, but the point remains the same…take time to enjoy each day. I am also very blessed with work that I enjoy and find deeply fulfilling. I am encouraged to grow and learn more within my work, allowing a heart-centered connection in what I do.
Listening to my inner voice calls for quiet time as well as awareness. I need to pay attention to the love nudges (what I often refer to my intuition as) when they "pop" into my head. I get the whispers and don't always choose to pay attention. That's usually a good sign that there is some sort of fear getting in my way. Prayer, journaling and meditation time are also opportunities for me to listen to my inner voice. I can clear away the cobwebs that are creeping in and notice what is really going on within. I don't always find it "fun" or easy yet I am always grateful for taking the time.
The last element of caring about what other people think tends to be the bigger snag. The closer the people are to me, the more I care. It's the process of allowing the shift to tend to me first and foremost. I get to speak my beliefs or ideas instead of swallowing them to make sure someone else feels safe or comfortable. My needs have to be my first concern. It doesn't mean that I get to randomly spout off with rashness or inconsiderate comments, but it does mean that I get to stand up for myself and question somebody or something if it is adversely affecting me. I don't have to deal with inappropriate behavior for fear of a response. It also means that I can offer an opposing point of view, especially when done respectfully.
This Thanksgiving, I am also going to offer gratitude for ME. I continue to deepen the knowledge and experience of my gifts. I explore the beliefs that get me stuck. I stay true to my work, even when it gets uncomfortable and messy. I ask for support. I allow myself to be heard. I courageously heal what has brought deep pain. I am grateful for the path I am on and need to remind myself of that often. Every time I choose me, the impact radiates outward.
Choosing me is the same as choosing all living beings.
However, choosing all living beings is not the same as choosing me.
Therefore, this Thanksgiving, I am grateful for me…making me grateful for all.
Blessings of love and gratitude to all this Thanksgiving…and always.